Haedong Yonggungsa Temple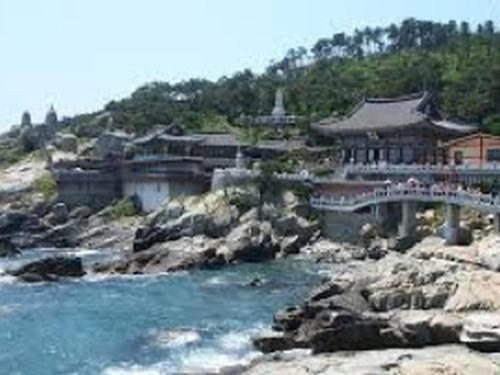 Homepage 
http://www.yongkungsa.or.kr
Address
86, Yonggung-gil, Gijang-eup, Gijang-gun, Busan
부산광역시 기장군 기장읍 용궁길 86
Inquiries
1330 Travel Hotline: +82-2-1330 
(Korean, English, Japanese, Chinese) 
For more info: +82-51-722-7744, 7755

Haedong Yonggungsa Temple is situated on the coast of the north-eastern portion of Busan. This superb attraction offers visitors the rare find of a temple along the shore line; most temples in Korea are located in the mountains. Haedong Yonggungsa Temple was first built in 1376 by the great Buddhist teacher known as Naong during the Goryeo Dynasty. Haesu Gwaneum Daebul (Seawater Great Goddess Buddha), Daeungjeon Main Sanctuary, Yongwangdang Shrine, Gulbeop Buddhist Sanctum (enclosed in a cave), and a three-story pagoda with four lions can all be seen looking out over the ocean. 

Many people often come to this spot on New Year's Day to make a wish for the new year as they watch the sun come up. April is an especially beautiful time of year with cherry blossoms in full bloom. The birth of Buddha is also celebrated in the fourth month of the lunar calendar and offers a spectacular night view as the temple area is aglow with lit lanterns.

Closed 
N/A (Open all year round)

Operating Hours 
05:00-Sunset
* Open all day: Yaksajeon Hall & Bangsaengteo Site

Parking Facilities 
Available

Admission Fees 
Free
Gamcheon Cultural Village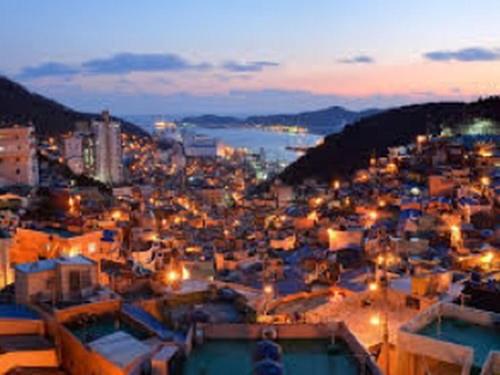 Homepage 
http://www.gamcheon.or.kr
Address
203, Gamnae 2-ro, Saha-gu, Busan
부산광역시 사하구 감내2로 203 (감천동)
Inquiries
For more info: +82-51-291-1444
Gamcheon Culture Villiage is formed by houses built in staircase-fashion on the foothills of a coastal mountain, earning this village the nickname of "Machu Picchu of Busan." The many alleys cutting through this community are vibrantly decorated with murals and sculptures created by the residents.
Closed 
N/A (Open all year round)
Activity Information 
Gamcheon Culture Village Experience Program
Craft Experience Program
Operating Hours 
Facility operating hours
March-November 09:00-18:00
December-February 09:00-17:00
Taejongdae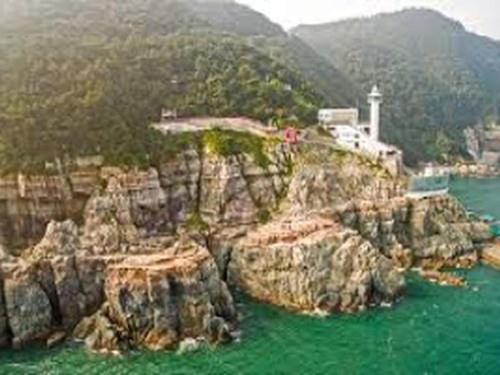 Homepage 
http://taejongdae.bisco.or.kr
Address
24, Jeonmang-ro, Yeongdo-gu, Busan
부산광역시 영도구 전망로 24 (동삼동)
Inquiries
For more info: +82-51-405-2004
Designated as a Busan monument, along with Oryukdo Island, Taejongdae represents Busan, and is especially famous for its rock beach. Featuring its highest peak at 250 meters, there are forests of pine trees and 200 other varieties of trees. Taejongdae was named after the 29th king of the Silla Kingdom (57 BC-AD 935), King Taejong Mu-Yeol (604-661). King Taejong traveled to many places but this was the place he enjoyed shooting arrows the most.
Under the lighthouse of this resort is a rock called Sinseon Rock, named after the myth that gods and goddesses came down here to relax. At this rock is a figure called Mangbuseok, named after the story of a woman who waited for her husband who had been taken to Japan. Taejongdae is also famous for the ritual of praying for rain, performed when there are droughts, and rain on the 10th day of the fifth lunar month is called the "Taejong Rain." On days with clear skies you can see Japan's Tsushima Island from the observatory.
Closed 
N/A (Open all year round)
Restricted Mountain Areas 
* Spring Season: February 1-May 15
* Autumn Season: November 1-December 15
Operating Hours 
March - October 04:00-24:00
November - February 05:00-24:00
Admission Fees 
Free of charge
Beomeosa Temple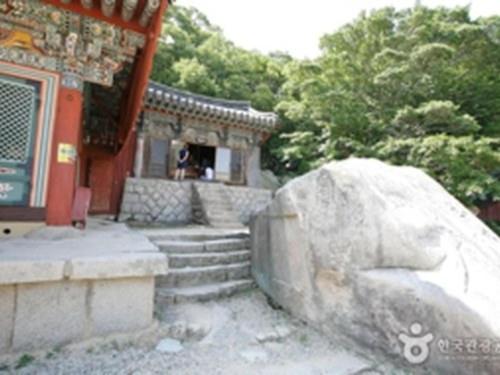 Homepage 
http://www.beomeo.kr
Address
546, Cheongryong-dong, Geumjeong-gu, Busan-si
부산광역시 금정구 범어사로 250 (청룡동)
Inquiries
For more info: Temple Office +82-51-508-3122
Temple Stay +82-51-508-5726 (Korean)
Beomeosa Temple is located at the edge of Mt. Geumjeongsan, a famous mountain in Busan. About 1,300 years ago it was constructed by monk Ui Sang in the 18th year (678) of King Munmu (reign 661~681) of the Silla Kingdom (the kingdom mainly occupied the Gyeongsang-do Province region in 678A.D.). In the geography book 'Donggukyeojiseungram' the origin of Beomeosa Temple is written as follows: 
"There is a well on the top of Mt. Geumjeongsan and the water of that well is gold. The golden fish in the well rode the colorful clouds and came down from the sky. This is why the mountain is named Geumsaem (gold well) and the temple is named 'fish from heaven'." 
The original Beomeosa Temple building was lost during Imjinwaeran Invasion (Japanese Invasion of Korea in 1592) but was renovated in 1713, which remains as it now is. Daeungjeon is one of the most delicate and luxurious architectures of the Joseon Dynasty (1392~1910). There is Iljumun, the three-story pagoda with four pillars, built in the 9th century, and seven royal palace wings, pavilions, three gates, and eleven hermitages. Designated as a natural monument, the wisteria woods and valleys are most beautiful in May.
Parking Facilities 
Available
Facilities for the Handicapped 
Restrooms
Interpretation Services Offered 
English